Farm to Table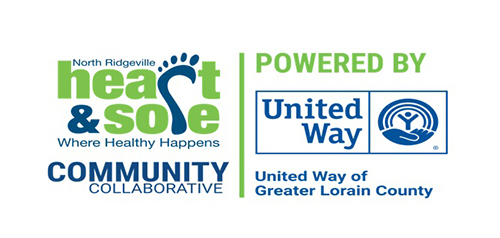 North Ridgeville Heart and Sole is a community collaborative, composed of local organizations and community members, funded through the United Way of Greater Lorain County and led by Lorain County Public Health. Heart and Sole aims to increase access to physical activity and healthy foods leading to a City where the healthy choice is the easiest choice. Heart and Sole seeks to provide community members with the resources to develop and practice healthy lifestyles. The collaborative improves chronic disease in the city of North Ridgeville by encouraging active living and healthy eating.
In partnership with the North Ridgeville Branch Library, Heart and Sole donated funds to help the Library purchase a Charlie Cart. A Charlie Cart is a fully functional, rolling kitchen equipped with a convection oven, induction cooktop, cookware, and many other features. With the Charlie Cart, the Library can provide interactive culinary programs such as cooking lessons, demonstrations, and food tasting when in-person programs resume. It is part of a system-wide initiative to teach community members of all ages how to cook and eat healthier, more nutritious foods, regardless of income level.
North Ridgeville Heart and Sole partners with local farmers at Gerhart's, Willie's Farm Market, and Red Barn Produce to organize grab-n-go produce pick-up bags throughout August and early September. Each week a different North Ridgeville farmer is featured and prepares a prepackaged produce bag of locally-grown seasonal fruits and vegetables. This program is a rousing success, and 2021 produce pick-up registrations are already fully booked. However, each farmer has a local farm stand where you can purchase locally-grown, fresh produce:
Gerhart's Garden | 33840 Lorain Rd, North Ridgeville, OH 44039
Red Barn Produce | 5656 Avon Belden Rd, North Ridgeville, OH 44039
Willie's Farm Market | 8609 Root Road, North Ridgeville, OH 44039
The produce pick-ups and the Charlie Cart are only two of Heart and Sole's many initiatives. To promote healthy physical activity, the North Ridgeville Heart and Sole Collaborative has organized indoor and outdoor walking sessions, supplied playground equipment for South Central Park, help fund the walking and exercise trail at the city's Shady Ridge Complex, funded the StoryWalk® at South Central Park, and funded the bike share at the North Ridgeville Branch Library. For more information, check out North Ridgeville's Heart and Sole's official Facebook page at Facebook.com/NRHeartandSole.
Charlie Cart with Heart and Sole Videos
Roasted Zucchini Salad with Lemon Dill Vinaigrette, Shaved Provolone Cheese and Toasted Pecans | Presenter: Mark Peters, Assistant Manager North Ridgeville Branch Library
Keto-Friendly, Low Carb Lasagna | Presenter: Elayna Boukis
Eggplant Caponatina | Presenter: Judy Auble
Cucumber Salad | Presenter: Mark Peters, Assistant Manager North Ridgeville Branch Library